I'm Heidi – This site celebrates cooking, and aspires to help you integrate the power of lots of vegetables and
whole foods into your everyday meals. The recipes you 'll find here are vegetarian, often vegan, written with
the home cook in mind. This site has been my online "home base" for nearly twenty years. It was initially built on the premise that when you own over 100 cookbooks (raises hand!), it is time to stop buying, and start cooking. This site chronicles a cookbook collection, one (vegetarian) recipe at a time. But there's a bit more to the story now that we're a couple decades in, here's some backstory on both me & the site…
I'm Heidi – This site celebrates cooking, and aspires to help you integrate the power of lots of vegetables and
whole foods into your everyday meals. The recipes you'll find here are vegetarian, often vegan, written with
the home cook in mind. Read more about me & the site

Premium Ad-Free membership includes:
This cilantro salad came to my attention in a round-about way. And I'm so thankful! I went to a lunch in Oakland a few weeks back. It was one of those special lunches that passes all too quickly – a warm April afternoon, a stretch of tables pushed together under a booming canopy of white flowers, good company, Lillet blanc, and some of my favorite cooks arriving with something to share, family-style. It was a celebration of Deborah Madison's new book, and after all these years, I was finally able to thank her for inspiring body of work in person. All in all, a great afternoon. I would have been more than happy to stay right where I was, long after the plates were cleared, as I imagine dinner under the blossoming trees would be magic. But, that's not actually what I was thinking about after I left. I was thinking about something I ate.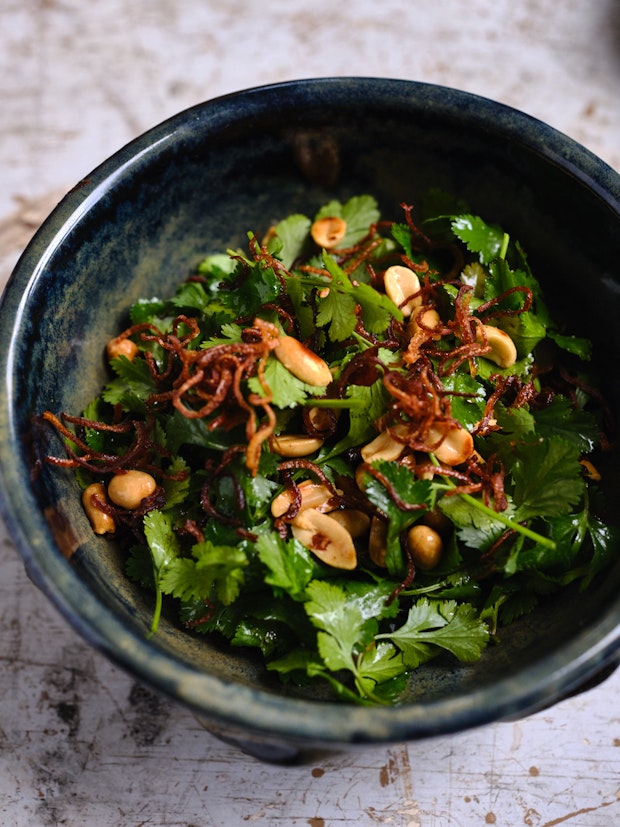 There was this one salad at the lunch that I just couldn't shake. It was made entirely of cilantro, tossed with a simple shallot-forward soy sauce dressing, toasted peanuts, and a vegetable. It was so simple, so bright, and it got me thinking about cilantro in an entirely new way. I can't emphasize more strongly how much I want you to enjoy this salad as well.

The Xinjiang salad was made by Carolyn Phillips from a Chinese cookbook specializing in the Northwest (you can see the write-up on her site here). You'll also also see it featured in her upcoming book on regional Chinese cooking being published by McSweeney's in 2014, All Under Heaven. She used red bell peppers, but I've been doing versions with whatever spring produce I have on hand. You can see the asparagus version as well as an all-cilantro version down below. Unless you absolutely loathe cilantro, you must, must(!) try this salad.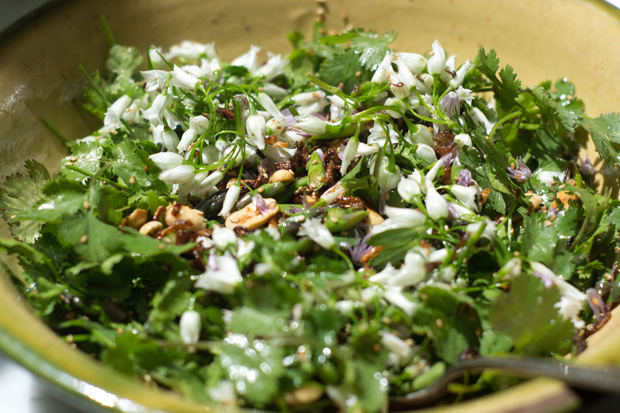 I love this salad as side to just about anything. It's great as a component to a grain bowl, wonderful in tacos, and I love it as a side salad to a rustic, savory tomato tart.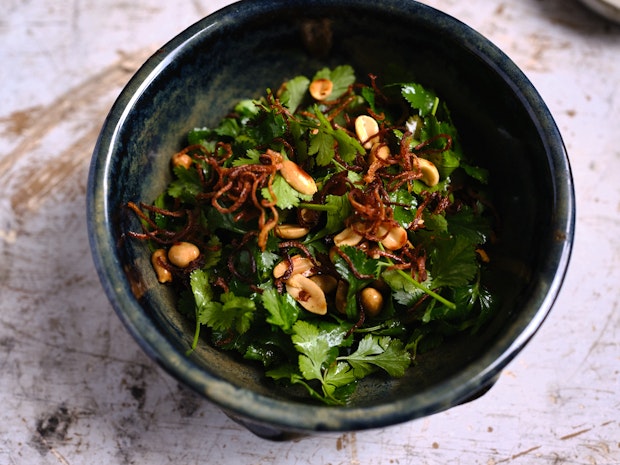 This is the main thing that matters. The absolute key here is to use the brightest, best cilantro you can get your hands on. The stems should be crisp but not at all tough. The leaves need to be vibrant, with no shift in color (indicating onsetting spoilage).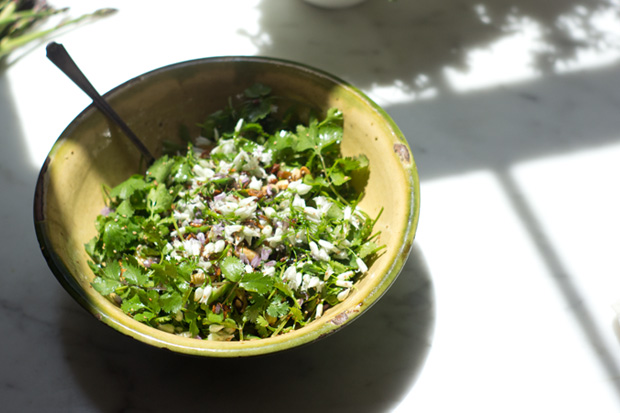 I understand if cilantro isn't your things. Especially if you're one of the people who experiences it as soapy. Here are a bunch of other salad recipes for you to check out.
Premium Ad-Free membership includes:
-Ad-free content
-Print-friendly recipes
–Spice / Herb / Flower / Zest recipe collection PDF
–Weeknight Express recipe collection PDF
-Surprise bonuses throughout the year

HS: You're going to make far more shallot oil (and shallots) than you need here. Keep the remaining oil refrigerated, and use it to drizzle over noodles, eggs, tofu, all manner of vegetables, etc. Or to use in a component in a vinaigrette. It's incredibly tasty and versatile. Also, please, as I mentioned above, don't try this salad unless you have great cilantro. Look for the brightest, best cilantro you can get your hands on. The stems should be crisp but not at all tough. The leaves vibrant, with no shift in color (indicating on-setting spoilage).
Just before you're ready to serve the salad, whisk together the soy sauce, sugar, sea salt, and 1/4 cup of the shallot oil.
Place the cilantro, peanuts, asparagus, and sesame seeds in a large bowl. Drizzle half of the soy dressing over, and give a gentle but thorough toss. Add more dressing if you like. The peanuts and asparagus like to find their way to the bottom, so be sure to scoop them back on top before serving with some of the reserved crisped shallots, and a few herb flowers on top (if you have them).
Serves 6.
Inspired by a salad brought to a lunch made by Carolyn Phillips who, in turn, references a Chinese cookbook specializing in the Northwest here. She'll be featuring the original in her upcoming book on regional Chinese cooking, All Under Heaven, being published by McSweeney's in 2014.
A list of fifty of the best salad recipes I've prepared over the years. You'll see a mix of green salads, chopped salads, grain and pasta salads. They all have an emphasis on fresh, whole, seasonal, plant-based ingredients.
Feathery green and red cabbages along with carrots, apples, and scallions tossed with a spicy, creamy sesame dressing.
A delicious, crisp grilled wedge salad topped with a spicy ranch dressing, chives, and nuts. An all-time favorite summer salad.
Warm, coin-shaped slices of pan-fried carrots, white beans, and herbs tossed with a tangy-sweet lemon shallot dressing. It tastes good the day you make it, even better the day after.
There is a special kale salad recipe in the Food52 Genius Recipes cookbook. A single kale salad that ran the gauntlet, beating out all others, for a slice of limelight.
I am going to try this. It looks great!
Heidi
I love the pictures of the salads you prepare they look especially nice in the dishes you put them in. Mind sharing where you get your dinnerware? Thx!
HS: Thanks Tina – I pick up individual pieces here and here. Antiques stores, on trips, flea markets, garage sales. Happy hunting!
Abbe, I am thinking that cilantro would be an awesome substitution for parsley on a tabbouleh salad!
could i replace the sunflower oil with olive oil as i don't used highly processed oils? would it alter the flavour?
HS: Hi Angela, I used unrefined sunflower oil, and made sure it didn't get too hot. Just hot enough to brown the shallots slowly. Olive oil would work, but will taste different.
LOVE your oil drizzles. I wish there could be a separate category in 'Recipes' for all your delightful drizzles!
HS: That's not a bad idea Claudia – I do love a flavored oil!
Wow! Must try this-cilantro is starting to appear at the farmers market .
beautiful looking salad! here in japan, i haven't seen cilantro in market. as a person who loves herbs, i would love to try this salad someday when i can fresh ingredients.
HS: Hi Yuri – I wonder if a version with a blend of Japanese herbs might be nice? Shiso, mitsuba, etc?
Really? Do you promise? Don't get me wrong. I love cilantro. But too much can get soapy. Does the shallot dressing tame that a bit?
I am addicted to cilantro and it never ever occurred to me to use it as a base in a salad. Thank you for the inspiration.
What a beautiful salad! When I first joined a local San Diego area CSA and had cilantro coming out the wazoo, I started making it into salads…it was all I could do to start making a dent in it. Glad to see this version. It's lovely!
My husband loves cilantro- he often jokes that he would put it on ice cream, he loves it so much. So, I must make this salad!
This looks amazing! My only questions is how to prepare the cilantro–it looks like the leaves aren't completely chopped, but how much of the stem should I leave on? Can't wait to try this (tonight!) x
HS: Hi Taylor, they're not shopped at all. Just leaves and stems….and i kept the stems quite long – 4-5 inches? Something like that.>
Interesting! I would have never thought of having a cilantro salad, but considering how fast it grows in the backyard, we could definitely get a few salads out of our plant!
With how strong cilantro is flavored, the simple oil dressing sounds like it will be a good compliment. I have a fresh bunch of cilantro on my counter right now and will try this for lunch tomorrow!
Beautiful salad – I love each and every salad you post here, but I am particularly excited to try this one. Living in Bangkok, we have an abundance of the most amazingly fresh cilantro I've seen anywhere. I used to overlook the herb, and now I use it nearly every day – so bright and fresh.
This sounds like an incredible salad. I would never have thought of using cilantro like this. I bet the flavours are amazing. Your photos are so filled with beautiful light too. Really inspiring.
Wow! This looks amazing! Just made cilantro pesto. This appears to be a fabulous way to expand my cilantro repertoire. Thanks!
I love cilantro in anything! I was wondering, if you may happen to know, instead of shallot (which I'm not hot about), what else may possibly work in its place please?
Now I do love the sound of this….but coriander (as we call cilantro over here in England) is not growing in the garden yet. Will hastily grow loads more…becuase you can't really buy huge bunches of it here.
Where do you find herb flowers if they are not growing in your own garden?
HS: Hi AM – I buy them often at the farmers market (this time of year is great), those fresh petals I don't use quickly, I air-dry, freezing can also work, but I find it strips a lot of the flavor/scent.
© 101 Cookbooks 2023
Use of this site constitutes acceptance of its User Agreement and Privacy Policy.
101 Cookbooks is a participant in the Amazon Services LLC Associates Program, an affiliate advertising program designed to provide a means for sites to earn advertising fees by advertising and linking to amazon.com. Any clickable link to amazon.com on the site is an affiliate link.