The Ford Puma will gain an electric variant in 2024 to rival the Peugeot e-2008 and upcoming Mini Aceman, and new details have emerged of its technical make-up.
Due to enter production early next year alongside the ICE Puma in Craiova, Romania, the Puma EV (a name for which hasn't yet been confirmed) will share its platform and powertrain with the freshly revealed Ford E-Transit Courier van.
Introducing the new Courier, which uses an electrified version of the Puma's front-driven B2E architecture, Ford said it had "engineered the electric powertrain together for Puma and Courier at the same time", suggesting the two will share broadly similar specifications.
Ford said it's working on only one battery for the smallest electric Transit, which, based on the fact that a 100kW charger will give a 10-80% top-up in less than 35 minutes and can add 54 miles of range in 10 minutes, is expected to be around 55kWh in capacity. This would be enough in theory for a competitive range of around 230 miles in the Puma EV. For comparison, the e-2008 has a 50kWh battery and can cover 212 miles per charge. 
If the Puma EV uses the same 134bhp motor as its van sibling, it should near enough match the e-2008's 9.0sec 0-62mph time. There are other motors available to Ford, though, including the 181bhp and 265bhp units used in the biggest E-Transit, so a multi-powertrain Puma offering could be possible.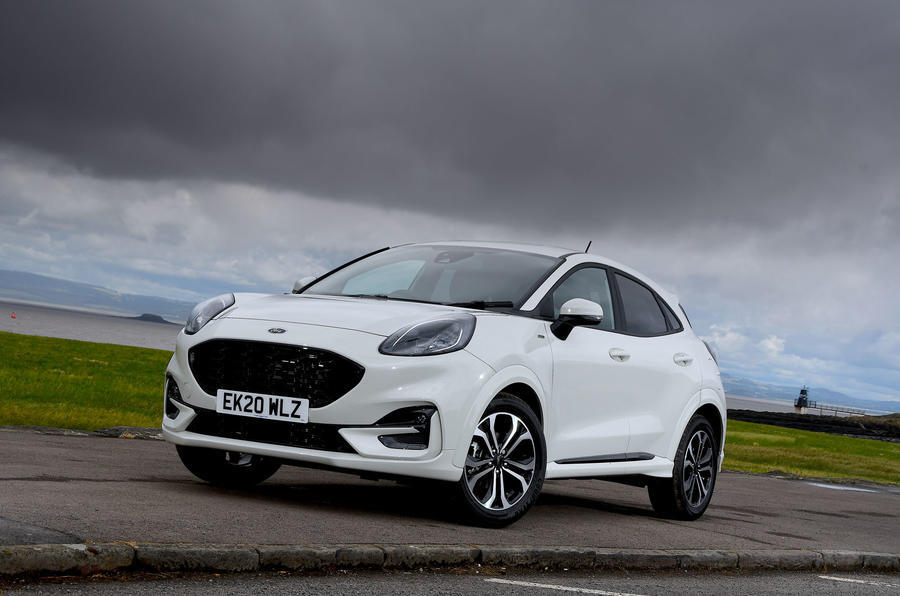 Speaking to Autocar recently, Ford of Europe boss Martin Sander was keen to position the Puma as the "utility version" of the Fiesta, saying that it will remain on sale "for many years" following the introduction of the EV version, suggesting a 2029 end-of-sale date.
It will be priced above the current ICE Puma, available from around £25,000. However, in keeping with the Puma's value billing and compact footprint, it's expected to sit at around the £35,000 mark – similar to rivals.
Ford aims to take the crossover class by storm as it revives the Puma name
The Puma was Ford's best-selling car for the past two years running, having dethroned the soon-to-retire Fiesta, which suffered a drop in sales when heavily impacted by semiconductor shortages and factory closures. 
The Puma's electrification is the latest step in Ford's electrification strategy, which will involve an investment of $22 billion (£17.7bn) through 2025.
The firm has already electrified several of its most important vehicles, including the Mustang, F-150 and Transit, and recently revealed the new Ford Explorer – a mid-sized crossover based on Volkswagen's MEB platform.
A more rakish crossover, based on the same architecture and set to be called the Ford Capri, will enter production in 2024. 
I might be jaded but yet another little jacked up car designed for ICE where they're shoehorning in a battery and getting the worst of all words is just tiresome. I assume they've made an engine shaped battery with maybe a bit more for the transmission tunnel.
When I one day make the switch to fully electric, I'll definately only look at "born electric" cars rather than a 35 grand botchup.
You're assuming this platform wasn't designed for EV and ICE (I have no idea if it was or wasn't).
If it was then it will be compromise platform with all the drawbacks of compromised solution.
Compromises such as?
The range will be nothing like quoted – 150 miles tops actually usable.  As for those chargine times – yeah, in a temperature controlled lab with the battery pre-conditioned… maybe.  In the real world?  It will be an hour to charge enough to add 100 miles of range.
We're still 5 years too early for mass EV adoption, this magazine should be calling that out.
Really, and like mpg figure are spot on for every ICE car.
5 years to early for mass EV adoption, really. The UK is 20 percent plus, in Norway the majority of new cars sold are BEV's.
Either way at least you're coming round to the BEV as 5 years away is not long in the car world.
Emmm another 2 years before Ford whip the ICE out of a Puma and put in a battery, you rock Ford.