Hey! Welcome to my Retirement Party! I'm so glad you were able to stop by!
So, I'm sure you've noticed that I've become more and more absent in this space over the last few years and I'm guessing a lot of you saw this coming long before I did, especially if you read my last post… almost a year ago. But I had to go through my process to arrive at this moment and it took me longer to come to terms with the fact that I've moved on from this chapter. If I'm honest, I think I knew it awhile ago but I was in denial for a long time. I thought for sure I would return to food blogging at some point but that's just not what happened.
Something I've noticed in my life is that when you go through something difficult, it changes you. It's like shaking up a snow globe and all the pieces go flying up and then find a new place to settle when they come back down. Parts of you shift, you outgrow other parts, and you get to know and understand some parts more than before. And we do this over and over in life, letting our parts resettle differently time and time again.
A few years ago, I went through something that turned my entire life upside down. I couldn't focus, couldn't stop thinking about the trauma I'd gone through, had invasive thoughts, nightmares, panic attacks, and truly lost all sense of who I was. I was diagnosed with PTSD and began a three year journey of healing and growth. I switched to a trauma-focused therapist and joined a therapy group for women with PTSD (which has truly been one of the best choices I've ever made. Healing in community with like-minded women has been one of the greatest gifts of my life). I spent three months at an integrative trauma treatment center. I found healing and reconnection with my body through yoga and even got my Yoga Teacher Certification to deepen my practice. I still have PTSD (and the severe anxiety I had prior to the event) but now I have the tools to manage it much more effectively. In the early days, one of my dearest friends told me "You will rise up from this like a Phoenix." I changed it to a "Mother-Fucking Phoenix" and turned it into a mantra that I've repeated to myself over the years and held in my heart as my goal. I can say now, three years later, that I've emerged as that Mother-Fucking Phoenix. And it feels fucking great.
Side note: I'm not mentioning my struggles with mental health for sympathy. I'm just sharing my truth because it may help someone out there who needs to feel seen, to feel less alone in what they're going through, and to provide hope during the healing process. Being honest and vulnerable about these issues is very important to me. It's so vital that we talk about these things.
I've spent the last couple years really getting to know this new version of me and I have to say- I ADORE her. She has more empathy, more patience, more confidence, and she's so much more comfortable in her own body. She knows how to set and enforce a boundary like no one's business. She's soft but fierce. She's much better at letting go of shit. What I've also noticed, though, is that this version of myself has different priorities. I want to spend my time differently than I used to. My creativity is begging to be expressed in different ways. I don't cook as often- Chris does most of the cooking now (that's something I NEVER thought I'd write, but here we are). I write but mostly for myself- journaling and poetry (I loved writing poetry when I was a child/teen). In fact, most of my creativity these days has been just for my own enjoyment, for the sake of being creative. I'm getting really into interior design and redecorating my home and painting murals and making bolder choices than I ever used to. The most satisfying part, however, is the time I spend drafting, planning, and imagining. This new version of me is wonderful to spend time with.
What I'm finding, though, as I settle into this current version of myself is that I don't feel drawn to create recipes or blog. And I don't want to spend any more time working on things I don't feel passionate about or feeling obligated to do things that don't fit me anymore. Life is too short.
And if I'm honest, there's parts of being a food blogger that I've never meshed well with. I'm not tech-savvy, I don't feel comfortable self-promoting, I don't like feeling like I need to stay "on brand" and "relevant," I don't like wondering what "on brand" and "relevant" even fucking mean, I don't like worrying about making sure my work is visible and seen, and the concept of living in a way that focuses on producing content doesn't feel right in my body. I want to live authentically, and it feels right – and necessary – to let go of these things.
—
A few days into 2021, I attended a zoom memorial service for a dear friend's relationship. She had ended things with her partner a year or so earlier but as many toxic relationships can, it had consumed her and she was struggling with the anger, the pain, the homesickness for what they once had. So she decided to hold a memorial service and invited about 30-ish of her closest friends. That morning, we celebrated the highlights of her past relationship (she'd put together a power point presentation- just one of the many reasons I love this woman), laughing at some of the inside jokes they'd held, watched as she fondly recalled some of the finer moments of their relationship, and we cried with her as she mourned the parts she was going to miss.
When I got off the call, I felt fragile and tender and when trying to figure out why, I burst into tears all over again. What I realized – what really began to take hold of my body – was that everything ends. And while there is often a level of grief that comes when a chapter ends, these endings don't have to be all sad. These endings can be a celebration of what we experienced, what we learned, what we achieved. These endings make room for new beginnings. Celebrating the end of chapters should be normalized. Our society values longevity as a measure of success and I'd been feeling a level of failure for not wanting to blog anymore, for feeling like a Vegan Food Blogger was no longer who I was (I'm still vegan – this isn't one of THOSE posts. #veganforlife). But after that service, I realized that what I achieved with Keepin' It Kind isn't negated or somehow less valuable because I decided to leave when it felt like it was time. A weight was lifted. And these ideas began to settle in and make themselves comfortable: What if choosing to live my life authentically is what success looks like for me? What if letting go of chapters that no longer bring joy is a success for me?  What if we all define our own measures of success? What if we stop striving for society's concept of success and just focus on finding joy?
These are concepts I'm still working on and I'm sure the answers will continue to morph and shift over the course of my life. But right now, I'm rewriting the rules in my life and taking time to celebrate Keepin' It Kind for the incredible chapter it was.
We've had a lot of good times here, so many laughs, and tons of delicious food. Chris found a lot of creative ways to use swear words (devotees know what I'm talking about), I got really honest about my relationship with The Chickpea; I created this masterpiece of a pizza; I had the BEST TACOS OF MY LIFE; I discovered my favorite kind of ice cream (aside from chocolate, because, come on); We ate All. The. Brunch; and I created this crowd favorite (to this day, it is my most popular recipe- a plot twist I definitely didn't see coming. It's followed closely by its gluten-free cousin). I shared with you some of the most difficult times of my life- the passing of my grandmother and my mother, and my struggles with Hashimoto's Thyroiditis and Thyroid Cancer, and of course, 2016 (remember when we thought 2016 was the worst year ever, LOL?)(Seriously, hahahahahahahaha). Oh yeah, and I WROTE TWO COOKBOOKS! When I began this blog in March of 2012, I was excited to have ten people I didn't even know visit my blog. Never, not even in my wildest dreams, did I think I would be a cookbook author. So in the future, if you miss me, you can open up a copy of But I Could Never Go Vegan! and/or But My Family Would Never Eat Vegan! and it will be like old times.
There are so many reasons I'm grateful for the adventure that Keepin' It Kind has led me on. For many years, it was the creative outlet I needed. It introduced me to a vegan community that I so desperately needed after going vegan and it opened up doors for me that I didn't know existed. You all, especially those who've been following since the beginning, have brightened my day on so many occasions. The sweet emails and comments you would leave sometimes came right when I needed them most and you helped me through some dark moments. I've made friends through blogging that I'll have for the rest of my life. Friends that will drop everything to meet you in another country when you're going through the roughest time of your life for a week of hijinx and so much food. Friends that I can go awhile without talking to but then pick up right where we left off because time and space can't affect our bond. Friends that are now my family.
The best part, though, the very bestest best part is this: I've also gotten countless emails from people thanking me for how I've helped them go vegan, or their family go vegan, or at least eat vegan meals more often, and that's truly the whole reason I started this blog in the first place. I wanted to make a difference and make this world a little more compassionate, safer for animals, and maybe lessen the damage we're causing to our planet. And I managed to do that, even if I wasn't the most popular blogger or the blogger with the best photos or even the one with the most/tastiest/easiest recipes. I made a difference. You guys, we made a difference. 
So this is it. This is the part where "The Time Of My Life" starts playing faintly in the background and I try not to cry. Thank you so much for being with me on this part of my journey, for being a huge part of an important chapter in my life. Going forward, you won't find me on Twitter (I deleted my account over a year ago) or likely Facebook (I may deleting the Keepin' It Kind page and really, I only use FB for marketplace these days). You may be able to find me on Instagram but who knows for how long or in what capacity (I feel much happier and healthier when I don't interact with social media but I may want to post the occasional pic- we'll see *insert shrug emoji*). I'll be closing the Keepin' It Kind email account and soon disabling comments on the website. I'm not sure what the future of this space holds, but for now, you can still come and find your fave recipes. The format may change in the future. It's all kind of a giant "We'll See" right now.
Everyone raise their glass. I'd like to make a toast. Thanks for joining me here today to celebrate my retirement. I'm so grateful for each and every one of you – you've been a big part of my life the last 9 years. Here's to embracing the endings, making room for the beginnings, and finding the joy and beauty in every chapter. Cheers!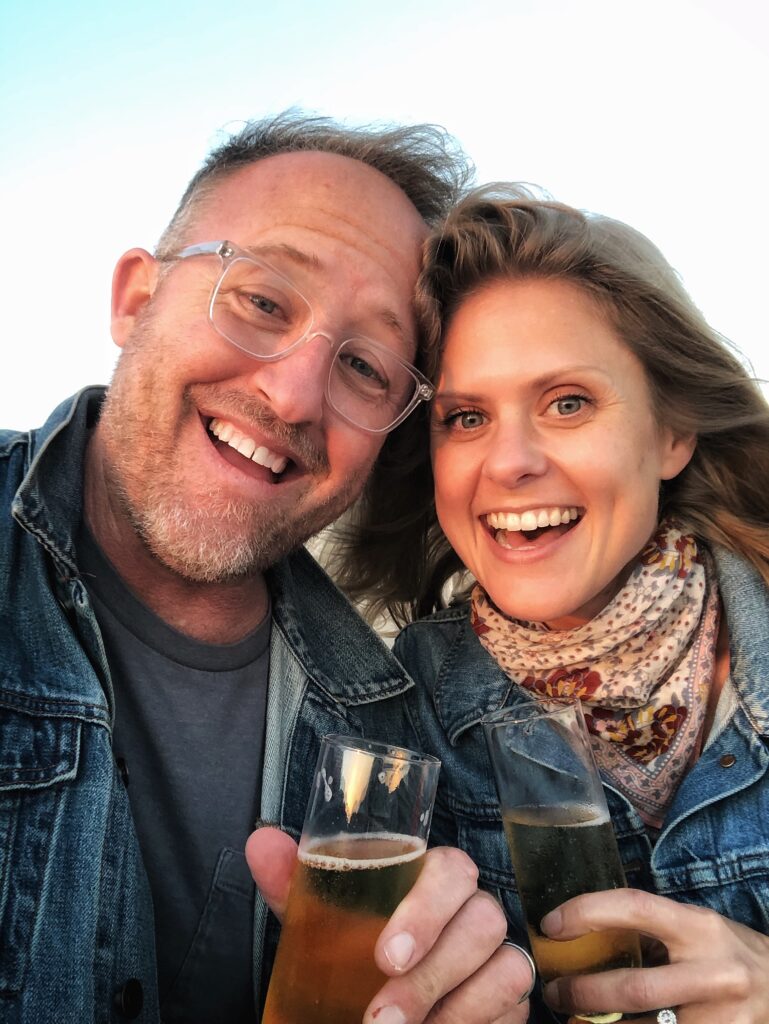 Cadry
Aw, I love you so much. This was such a wonderful post & send-off. It brought tears to my eyes. (That snow globe analogy is PERFECT.) You have definitely made a difference. I feel so grateful for your gifts that you've shared with the world & that we found each other here! xoxo
Chris Stickney
Cheers to you and the next chapter! I loved the snow globe analogy and can see the dropping flakes in my own life have changed positions to because of shake-ups.
I hope you stay blessed in your life and continue to heal. You're truly a lovely soul and I wish for you (and Chris) the best of everything.
Shannon
I have followed your site since almost its beginning, adore both of your books, and will always be grateful for what I learned and was inspired by here. Feeling joy for you as you continue on your chosen path! Congratulations!
Victoria
Congratulations on your retirement! And well done for doing what feels right and best for you. I've been subscribed to Keepin' It Kind since January 2015 and always enjoyed reading your posts. Thank you for all the recipes you've shared and for sharing yourself. I, too, have struggled with mental health issues and appreciate your perspective and your willingness to be open about the topic. Best wishes to you, wherever your life journey takes you. Take care, Kristy. XO
Kathy patalsky
Love you Kristy. I am so thankful to have met you through the vegan food blogging space. I will forever be grateful for our little beach walks that helped me heal and feel connected just a little bit more during that grieving time.
You, my dear, are something special! And wherever you land will be a magical chapter I'm sure.
The snow globe analogy is so beautiful. I feel that exact way right now after becoming a mom. Thank you for that.
And thank you for being you and sharing yourself with the world all these years. Xoxo
Kelli Roberts
Congratulations on making the decision that is right for you! I totally understand the feelings and choices to change as life moves along. Happy that you are so truly happy!
Virginia
Dear Kristy, your posts and culinary inspiration have brought me and my sisters tremendous joy! THANK YOU. We wish you many happy and exciting experiences as you continue in your life's journey. May your future ventures bring you contentment and satisfaction. Wishing health and prosperity to you and all your loved ones, Virginia
Amey Mathews
Aw what a beautiful tribute. It is graceful to allow things to conclude when the time is right. I've enjoyed your blog and getting to know you over all these many years, and through so many incredibly significant life experiences. You have a special place in my heart. Lots of love to you and Chris and whatever comes next.
Inga
Dear Kristy! You are such a strong and brave woman! Thanks from all my heart for sharing so much of yourself – and of course the amazing outcomes of your kitchen. 😀 Your books are two of my very most favorite vegan cookbooks – I've shared a lot of receipes with friends and family – and there is no week, that I don't browse the pages, either to decide what to cook that day or simply because your words and the photographs make me happy (and hungry ;)). I hope you will keep up this website and all the outstanding receipes for a long time (if not, I guess I need to try to save the whole content on my harddrive :D). But even more I hope you will keep to follow your heart! Isn't that what we're actually here for? My very, very best wishes (coming all the way across the ocean from Germany), Inga <3< p="">
Janine
Hi Kristy. I've never posted on your blog before but Iove your cookbooks. Just last night I wondered what had happened to you (and Kathy Patalsky, whose cookbooks I also love) and I did something I rarely do– I asked that question at my vegan Goodreads group.
One of the other posters came here today and found this post–on the very day you posted it, how's that for a coincidence? And I while I wish there were more cookbooks to anticipate, I was happy to read your post and have an answer to my question, so thank you for posting it.
I have to say I have so much respect and admiration for the way you've handled the challenges that came your way. And I totally understand the need to move on and be true to who you are now. The celebration of endings touched a chord with me, too. Be well and have fun and continue thriving. –Janine
Amy
Thank you for all the recipes and memories. I've followed you since around 2012, and you were always my favorite vegan blogger. Thank you, and best of luck moving onward and upward!
Tess R.
Kristy, Thank you for so many amazing years of delicious recipes, honest and beautifully written posts, and for putting yourself and your creativity into the world. Wishing you all the best in your food blogging retirement! I'm sure you will create the incredible world that you richly deserve. Best to you and your family.
Robin M
Keepin It Short…what a great trip you've been on …your honesty and what you have found is so helpful to so many.
..keep it going and keep it up…well wishes for what is to become. Cheers💜Robin
Jb
Kristy, I wish you the best in your new path and continued healing filled with new opportunities.
Jen U.
Seeing notifications of your new blog posts always brought me a smile. May the book of your life continue to be full of dog-eared pages where you want to thumb back and remember and may your journey continue to be a satisfying one full of love, light and, of course, good food.
Jenny
Thank you for inviting us to your retirement party! This was a beautifully written post. And thank you for all the recipes throughout the years. I wish you the best of luck for whatever the future holds!
Erin O'Brien
Best of luck in your upcoming adventures, Kristy! Thanks for all the great recipes!
Kristi
Kristy, as a fellow PTSD survivor, I commend you for taking care of you:)I will always enjoy your cookbooks, and, wishing you a Happy Retirement:)
Christine
I went vegan 9 yrs ago tomorrow. You were the first vegan blog I followed. You made life easy for me when I wasn't quite sure what I was doing! I wish you and Chris the very best. Be you. Be happy! Life is too short… 🥰
Janie
You go girl! Life is too short to have regrets! Thanks for all of your beautiful posts these past years while I needed a blog like yours to be inspired. Take all the time you need and take care of yourself! You have a beautiful soul and have left such a wonderful legacy! Here's to the future. Carpe Diem dear one!
Laurie Jircitano
So sorry to hear that I can't buy anymore cookbooks from you. Your 2 are the ones that I use the most. The flavors you like are similar to my tastes. You contributed so much to vegans everywhere. I wish you continued health and happiness in whatever you endevor to do. Thank you so much for all you have done to help me.
Charity
Congratulations on the next stage of your journey… and, thank you!!! Thank you for your honestly, your humor, your sassiness, your creativity, and your delicious recipes. Hugs to you, and your family. 🙂
Kristin Fust
Congratulations!! What a beautiful send off. I'll miss your posts, but am happy for you. Thanks for all you gifted us with your blog!
Val
So beautifully written. Thank you, and all the best 🙂
Your email address will not be published. Required fields are marked *
Welcome to Keepin' it Kind! I'm Kristy- Animal Lover, Travel Fanatic, and Chickpea Devotee. Join me as I make the world a kinder place, one delicious vegan meal at a time…
Unauthorized use and/or duplication of this material (content and images) without express and written permission from this blog's author and/or owner is strictly prohibited. Excerpts and links may be used, provided that full and clear credit is given to Keepin' It Kind with appropriate and specific direction to the original content.
Copyright © 2022 Keepin' It Kind
3<>