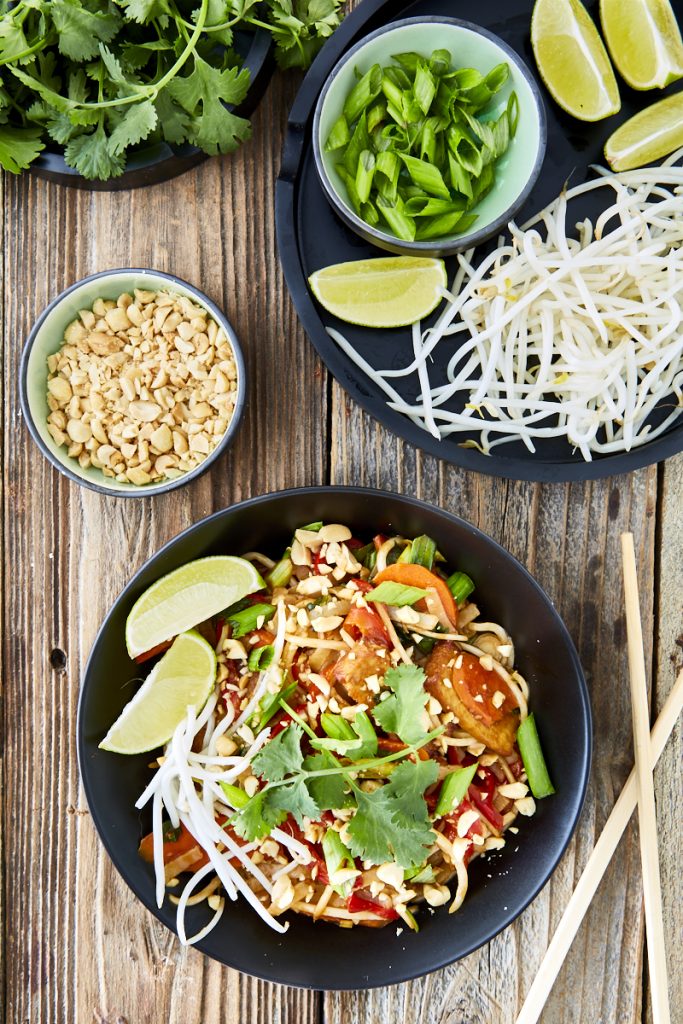 I am a strong believer in the idea that food has the power to help heal you. Some meals have the ability to transform your mood, to move you towards a happier place, and/or to create a small change inside you. For me, most recently the dish that has done the most healing for me has been tofu pad thai.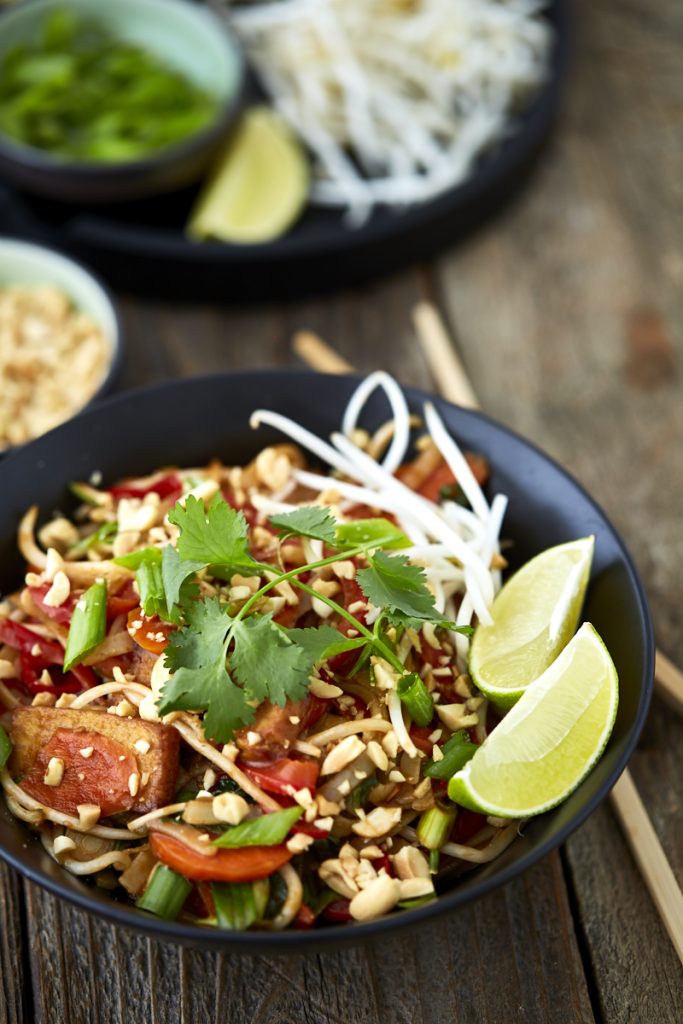 If you follow me on instagram, you may've noticed that I've made references a couple times to my PTSD and the healing that I've been working through. I can't discuss the details of my recent trauma here but suffice it to say that something very painful happened and turned my world completely upside down. I try to keep things real in this space and I allow myself to be vulnerable here and speak honestly about my mental illness and emotional struggles in hopes that it will allow others who struggle to know they are not alone. Those of you who've had or have PTSD know the sudden bursts of fear, anxiety, and hyper-vigilance, the inability to concentrate and the constant forgetfulness, the nightmares, the racing heart, and the sudden inability to do even just everyday acts of survival like sleeping and eating.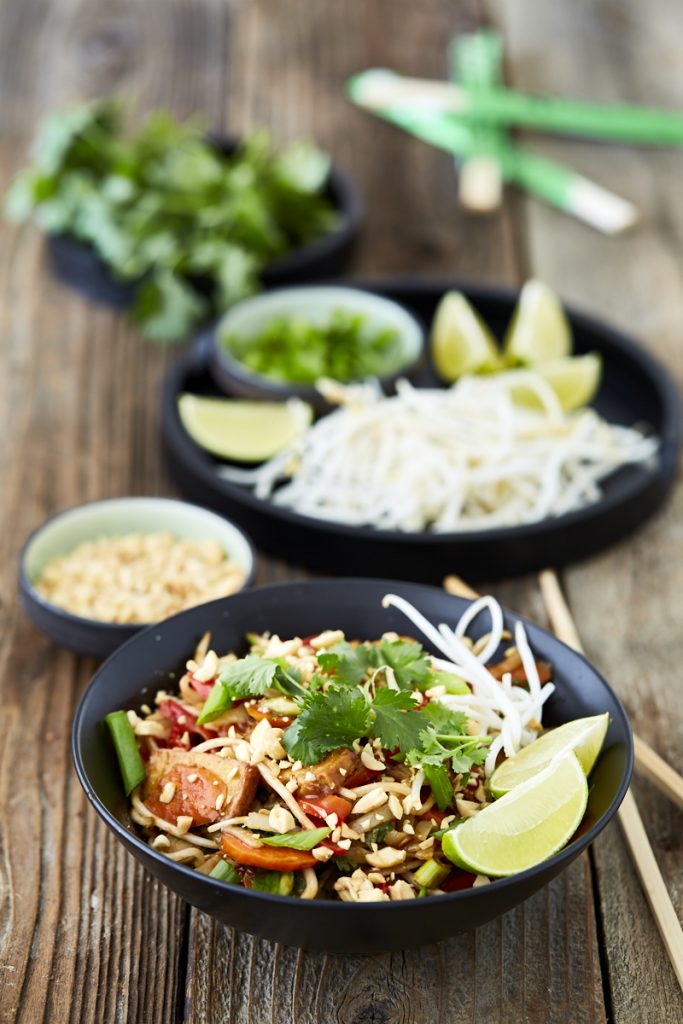 After the Event, I completely lost my appetite. The morning after it occurred, my friends took me out to breakfast and I ordered something I normally would've loved. But just one bite in, I felt like vomiting. In those first couple weeks, I was lucky if I got down a couple pieces of toast or a bowl of cheerios in one day. I slowly started adding in more bland foods (the only thing I could stomach) here and there, and eventually, I was able to work up to one big, solid meal a day, but I lost over 10 pounds in a month.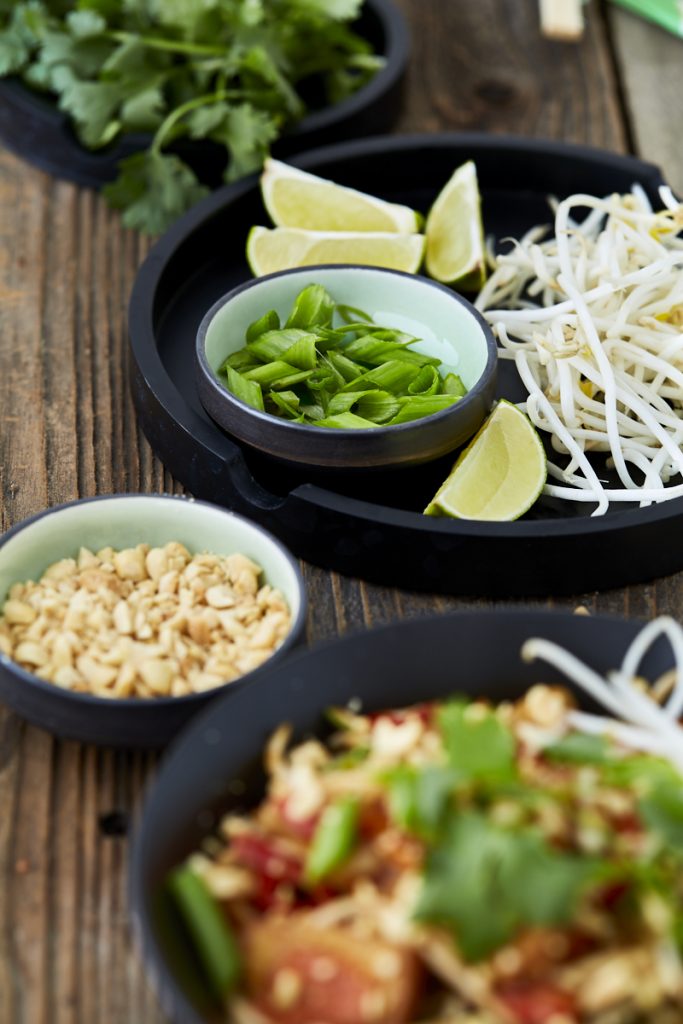 One night, after about 8 weeks, my friends and I were going to hang out and they suggested picking up some thai food from a vegan thai place nearby. I went along with it because in all honesty, I didn't think I was going to be able to eat anything. I ordered the pad thai thinking that I would likely be bringing the mostly uneaten box home to store in my fridge until it went bad. Little did I know that that carton of tofu pad thai was going to turn my life around.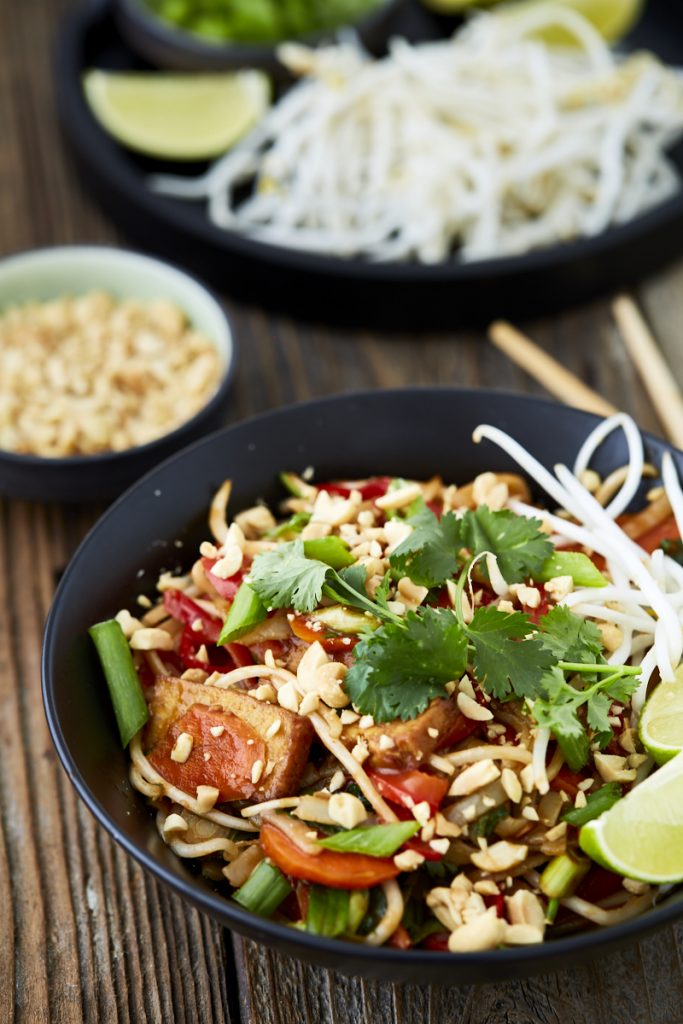 Now, let me just say that there have been many elements to my healing process. I've found an incredible therapist and a great weekly support group, I've reconnected to journaling, I've started meditating, I've added weekly yoga back in to my life, and most importantly, I've surrounded myself with a group of strong, fierce, and loving friends (and family) who hold me up when I am unable to. Healing is an ongoing process and I've made it an almost full-time job these last few months. But this bowl of take-out tofu pad thai awakened my appetite from the 2 month hibernation it had slipped into. The saucy, sticky noodles, perfectly braised tofu, and the topping of crumbled peanuts reminded my tongue of how delicious food can be and it reminded my stomach of how good it felt to be filled. I went home that night with something stirring inside me. My body had become so accustomed to fueling itself with the blandest bare minimum that it took me awhile to realize what that stirring was. It was the beginning of a craving.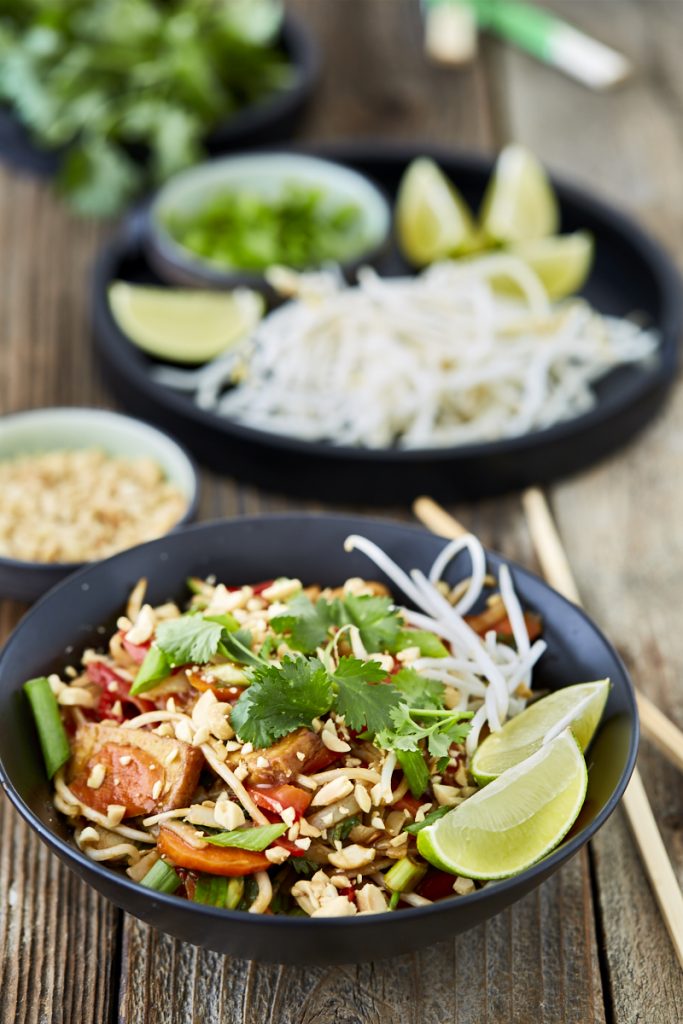 Thai take-out became a staple, be it from our favorite Vegan Thai place in Santa Monica or from the little shop closest to my office in the valley. I was eating tofu pad thai at least once (but usually twice) a week. It soon became clear that if I was going to keep this habit up, I needed to start making it at home for myself. So the recipe testing began.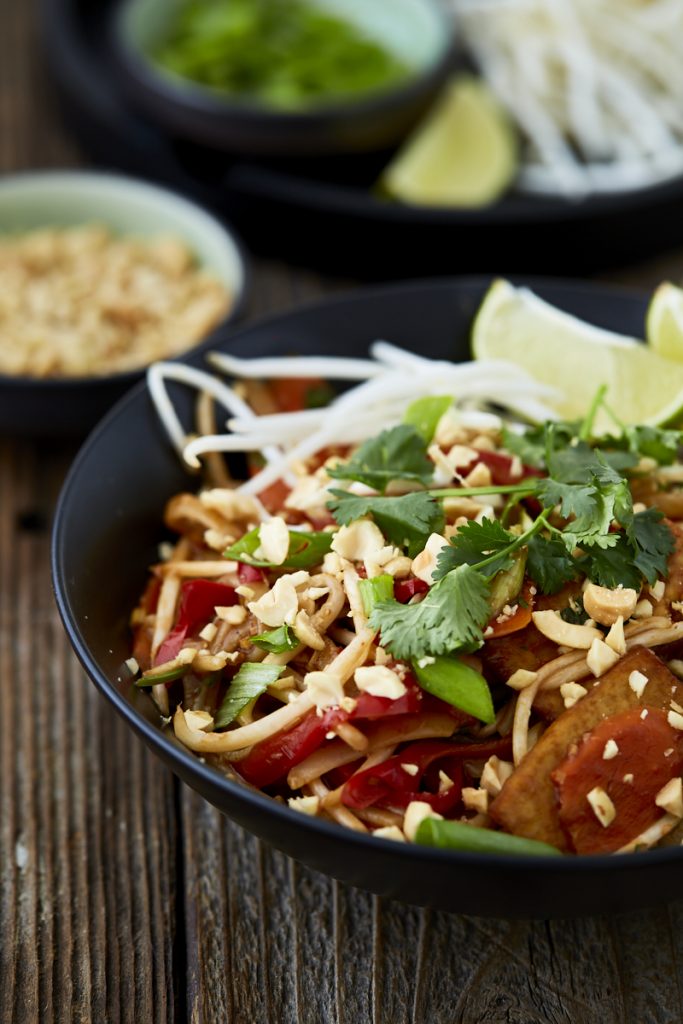 And that, my friend, is how we've found ourselves here, chatting over the most magnificent bowl of pad thai to come out of my (and now your) kitchen. The sauce is tart and tangy with a subtle sweetness to balance it out. The noodles are sticky but obnoxiously so. I like to use packaged, pre-baked tofu, slice it thinly and cook it in the airfryer for 10 minutes prior to adding it to the pan with the veggies. This gives it a crispiness that I really like but since it's already cooked, you can skip that step and add it to the pan along with the carrots. I also like to slice the red bell pepper into thin strips using a mandoline so that you don't have to bite into big chunks of bell pepper, but if you're into that, cut the bell pepper into big chunks. I also prefer, instead of cooking the pasta the traditional way in a pot of boiling water, to fill a bowl with hot water and add the noodles to the bowl (spreading out the strands so you don't have large clumps of pasta stuck together) and let them soak for 10 to 15 minutes, until it's time to add them to the pot. The noodles continue to cook when you add them to the pot with the veggies, tofu, and sauce, so it's best to not overcook them beforehand. You can, of course, cook the pasta the traditional way, but just be careful not to overcook it. The result is a succulent bowl of tofu pad thai that will leave you craving more.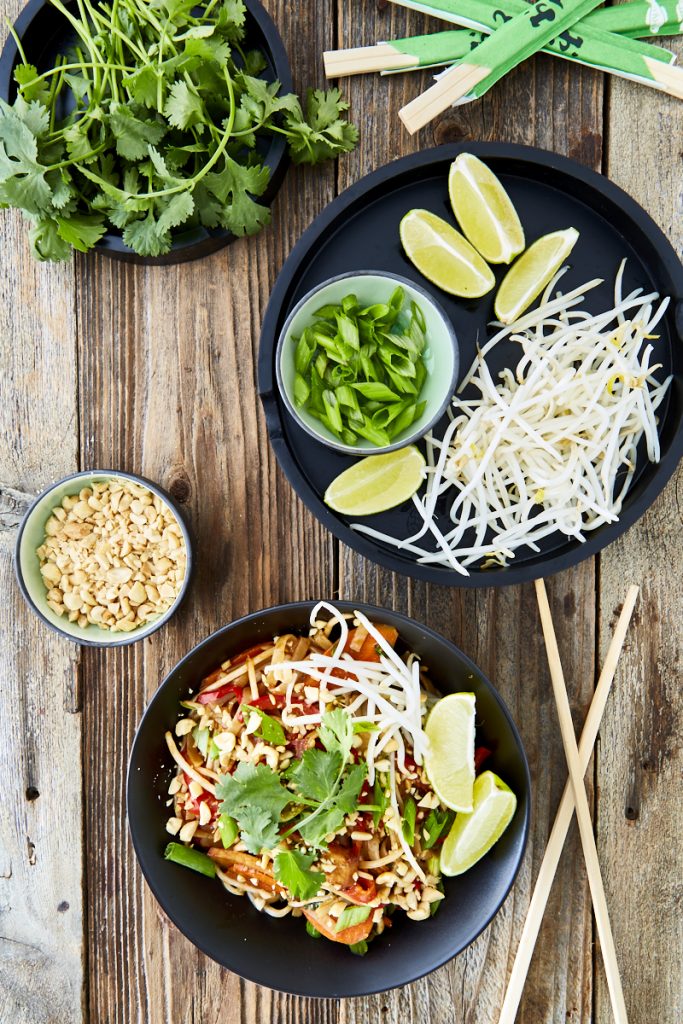 Yield: Serves 2 to 3
Ingredients
Instructions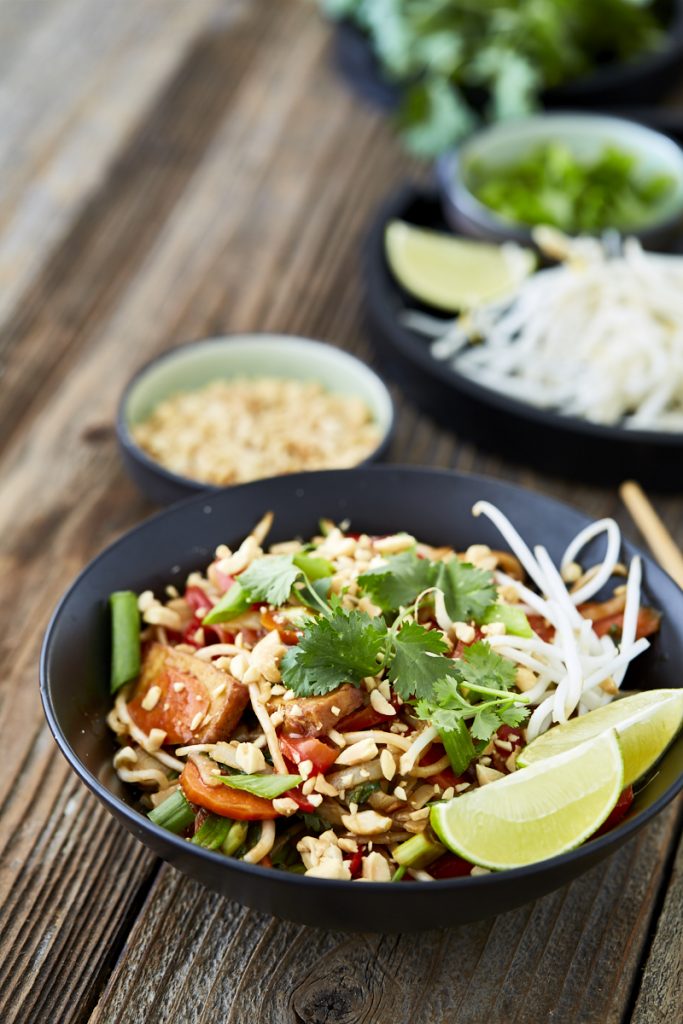 Photography by Kristy Turner
Teniesha Collins
Major heart eyes!! I'm obsessed with pad Thai! My husband would call it unhealthy, I call it in love! Need to try this.
Teniesha Collins
Thank you for sharing this!!
Melissa
When do you use the tamarind paste? It's in the pasta ingredients. Shouldn't it be in the sauce ingredients?
keepinitkind
It should be in the sauce ingredients. That was an editing error- thanks for the catch!
Julie Adams
Kristy,
I love your site (always so beautifully written and photographed), the stories you share and your absolutely delicious and healthy recipes. After I read this particular post, I wanted to reach out and tell you how happy I am to hear you are healing. My heart goes out to you and please know how much I appreciate your gifts and I am so grateful you share them with us!
Cassie Autumn Tran
Kristy, I truly love how you touched upon your PTSD. It's completely understandable that it's daunting to iterate the root of your PTSD because ultimately, it's best to feel more secure while talking about it than constantly rethinking and hesitating to do so. My relatives fought in the Vietnam War–every single one of them suffered or still suffers from at least a trace of PTSD, others are more severe and led to other mental illnesses such as schizophrenia and depression. That being said, I think it's pretty extraordinary how vegan Pad Thai restored your desire to eat! Goes to show how valuable the dish is to you, and I love that. Your take on this classic Thai staple is such a winner–I have to try making it myself!
Andrea
So glad you are open with sharing your mental health issues. Every admission pushes away the stigma that darkens the world. I'm very happy that you have found so many options to help you at this challenging time. If you are open to an idea, I would recommend looking into prolonged exposure. The treatment sounds scary, but there is plenty of research showing it's effectiveness for a variety of traumas. I've seen it's effectiveness. Good luck and thanks for the recipes!
Lisa is Planted365
Oh wow, this looks delicious. Thank you for your openness about PTSD. It's so helpful to others.
Fiona Manoon
It looks very yummy.
Thanks for sharing such a delicious recipe with us.
Your email address will not be published. Required fields are marked *
Welcome to Keepin' it Kind! I'm Kristy- Animal Lover, Travel Fanatic, and Chickpea Devotee. Join me as I make the world a kinder place, one delicious vegan meal at a time…
Unauthorized use and/or duplication of this material (content and images) without express and written permission from this blog's author and/or owner is strictly prohibited. Excerpts and links may be used, provided that full and clear credit is given to Keepin' It Kind with appropriate and specific direction to the original content.
Copyright © 2022 Keepin' It Kind