When I asked what kind of pie is on your holiday tables in December, you had so many delicious suggestions. Chocolate and pecan, in their many different variations, were the most mentioned. So that's where I found inspiration for these bars, which are easy to make and everything you love about pecan pie, with the addition of a rich chocolate layer, and sweetened condensed milk (no corn syrup) poured over the top before baking. The simple pat-in-the-pan crust has pecans in it as well for depth of flavor, and lard makes it very flaky.
I find pie bars to be less intimidating than making pie, and the results are just as delicious. I decided to streamline a typical pecan pie by making a pat-in-the-pan pie crust, using sweetened condensed milk for rich flavor, and adding a single egg to help bind the filling and slightly lightening the rich condensed milk. Bourbon is optional, but also helps cut the sweetness and adds great flavor. Additionally, these bars pack well for holiday cookie boxes.
Lard has a lot of advantages in pastry making. It's ideal for pie crusts (sweet or savory), as it makes a great non-hydrogenated alternative to shortening. It blends into the dry ingredients of pie crust easier than butter, and browns beautifully. Because it has a higher melting point than butter, it's also easier to work with. I also use lard for the crust on this Chocolate Meringue Pie recipe and love how light and flaky it is.
These bars can be stored in an airtight container and refrigerated for up to 4 days, or frozen for up to two weeks. Place the bars in the refrigerator the night before serving. Bars can be served cold or at room temperature.
These are delicious! I used a glass 9×13 and they were a little bit thick but still very tasty. I think I will use 2 8×8's next time when I want to double. Two questions. 1. What % of chocolate is considered bitter sweet? I used too melt-y of chocolate so it didn't keep the distinct chopped shape. 2. Can I freeze these? Thank you in advance for any help! Also, I really enjoy this blog and have made many many things. A family fave are the pumpkin bars with cream cheese frosting. I skipped pumpkin pie this year and made this instead. I also used my own pumpkin purée from the winter luxury pumpkins I grew. Turned out great!
Hi! These look delightful – thank you for sharing this recipe with us 🙂
Curiously I have a can of sweetened condensed milk in my pantry that is only 11.25oz! Is there something I can use to make up for the less than 14oz the recipe calls for? Cream/Whole Milk/Water/Maple Syrup or a combo of these??
I appreciate any suggestions….even trying this with the amount I have as an option!
It will still turn out with the slighter smaller amount that your can is.
I don't want to use lard either, but I have both butter and shortening. Which would you say would be better in this recipe?
I cannot wait to bake these for a friends Christmas get together. However, I want to double the recipe and have a question about the pan size for 24 bars. What would you recommend?
Thanks so much,
Betsy
Hi Betsy! Use a 9×13 pan to double (not glass).
I really want to make these, they sound fantastic! But, I need a substitute for the Lard! I'm not in a position to buy a tub of lard for 1/3 cup. And I'd rather not use it for other baking.
Should I use Butter? I'd also rather not have to buy "Shortening", I haven't used it in years.
I hope this question makes some sense to you.
Thanks so much,
DL
You can use butter if your prefer.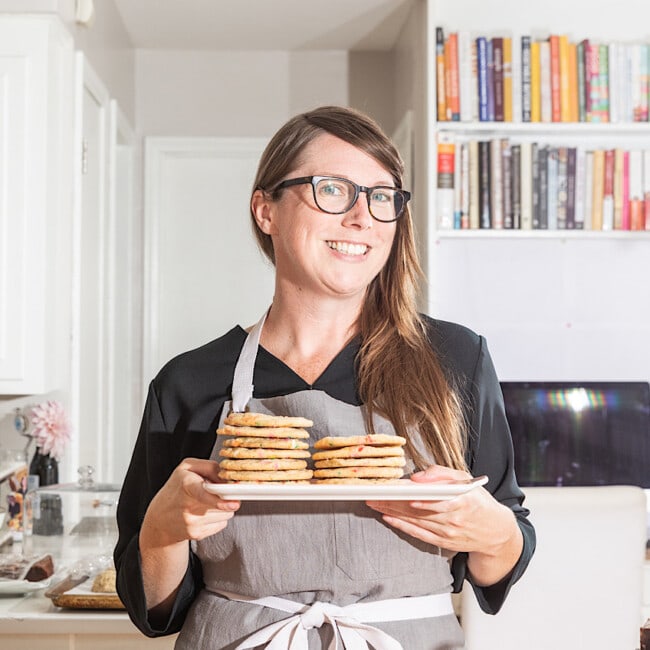 I'm Sarah Kieffer, author of three cookbooks and creator of the popular Pan-banging Chocolate Chip Cookie recipe. I live in Minneapolis and love baking and listening to Ella Fitzgerald. About Me »
(C) COPYRIGHT 2022 – Sarah Kieffer Privacy Policy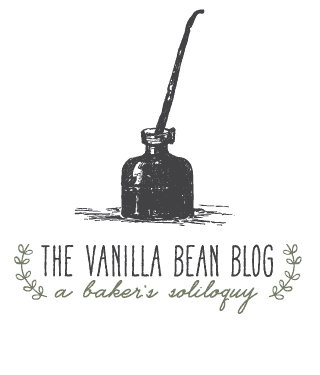 Get my latest recipes, exclusive cookbook details, and baking tips by subscribing to my email list.